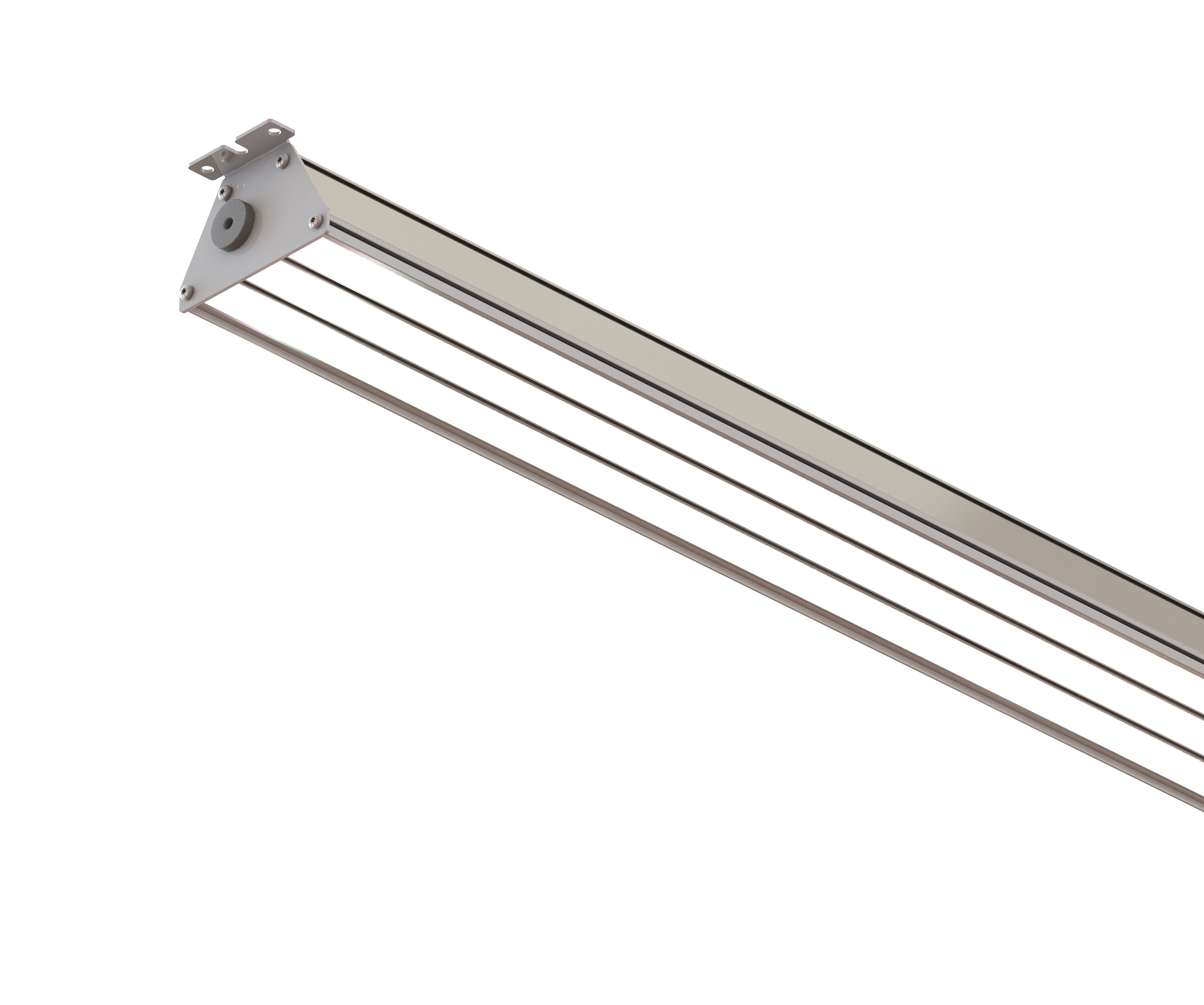 Efficient general luminaire
Easy LED – PICA is an energy efficient and durable general luminaire for many applications. It's low flicker index ensures excellent lighting for all working conditions.
Easy LED – PICA is easy and quick to install. It can be mounted directly on the ceiling or rail. Versatile options of spring clips available.
Thanks to its versatility, PICA is ideally suited for energy and cost effective lighting of warehouses, industrial halls, logistics centers, offices and public spaces. Now also IP65 version available for the food industry interior lighting.
The products are designed and manufactured in Finland and have been awarded the Finnish Key Flag and Design from Finland certificates.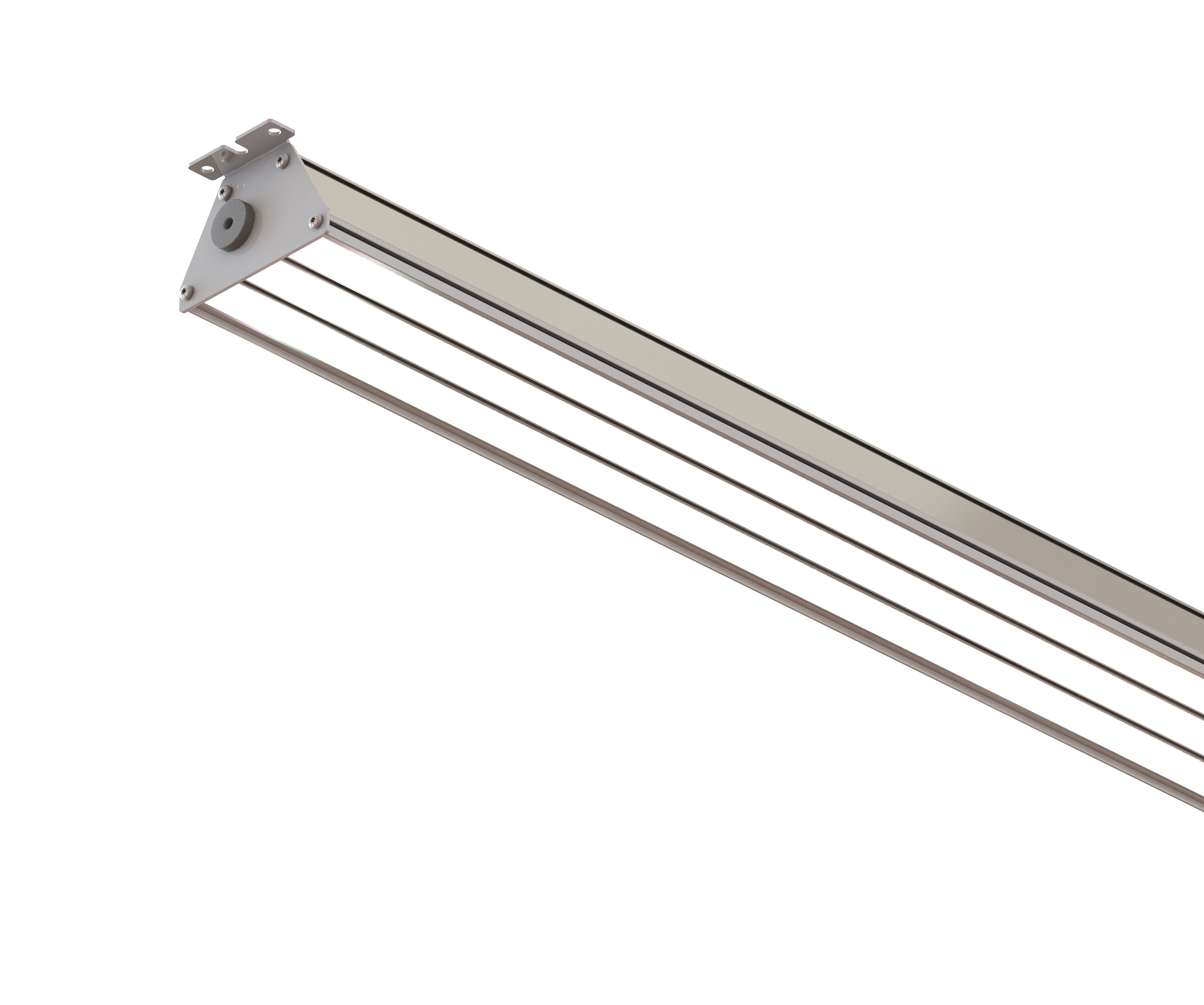 | Model | Luminous flux (lm) | Power consumption (W) | Lifetime DALI (h) | Temperature range(°C) | Weight (kg) | Control |
| --- | --- | --- | --- | --- | --- | --- |
| PICA® 1-25 | 4 300 | 24 | >100 000 | -25°C ...+55°C | 2,9 | DALI/on-off |
| PICA® 1-40 | 7 300 | 41 | >100 000 | -25°C ...+55°C | 2,9 | DALI/on-off |
| PICA® 1-60 | 10 000 | 59 | >100 000 | -25°C ...+50°C | 2,9 | DALI/on-off |
| PICA® 1-80 | 13 300 | 81 | >100 000 | -25°C ...+50°C | 2,9 | DALI/on-off |
| PICA® 2-100 | 19 100 | 105 | 100 000 | -25°C ...+45°C | 3,1 | DALI/on-off |
| PICA® 2-150 | 24 800 | 149 | >100 000 | -25°C ...+40°C | 3,1 | DALI/on-off |
| PICA® 3-200 | 33 700 | 198 | 60 000 | -25°C ...+35°C | 3,5 | DALI/on-off |
| PICA®IP65 1-25 | 3 700 | 24 | >100 000 | -25°C ...+50°C | 3,4 | DALI/on-off |
| PICA®IP65 1-40 | 6 300 | 41 | >100 000 | -25°C ...+50°C | 3,4 | DALI/on-off |
| PICA®IP65 1-60 | 8 800 | 59 | >100 000 | -25°C ...+50°C | 3,4 | DALI/on-off |
| PICA®IP65 1-80 | 11 600 | 81 | >100 000 | -25°C ...+50°C | 3,4 | DALI/on-off |
| PICA®IP65 2-100 | 16 700 | 105 | 100 000 | -25°C ...+45°C | 3,6 | DALI/on-off |
| PICA®IP65 2-150 | 21 800 | 149 | >100 000 | -25°C ...+35°C | 3,6 | DALI/on-off |
| PICA®IP65 3-200 | 29 500 | 198 | 50 000 | -25°C ...+30°C | 4,1 | DALI/on-off |
Power: 24 W – 198 W
Light output: 3700 lm – 33 700 lm (Luminous flux for 840, dependent on choice of optical solution)
Optics: Tough and stable PMMA plastic.
IP class: IP43 as standard, IP65 version available
Temperature range: Designed for ambient temperatures of -25…+55°C (non-condensing) depending on the model
Control: DALI-2 available.
Mains voltage: 230 VAC (operation voltage range: 198…264 VAC, 176…280 VDC)
Frequency: 50…60 Hz
Power factor: 0,98
Surge protection: 2 kV L-GND / N-GND, 1kV L-N (IEC 61000-4-5)
Guarantee: 5 years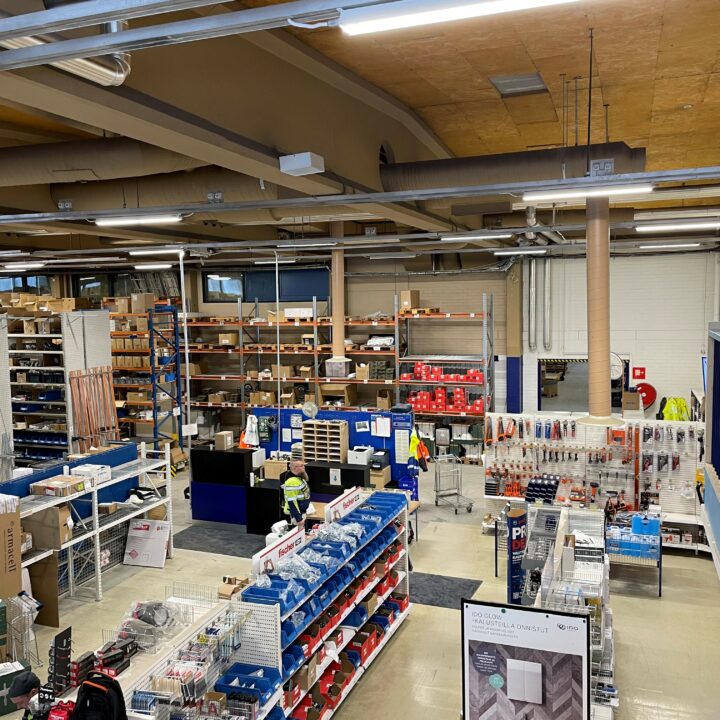 Place: Lahti
Installation height: 7 m
Lx: 500 – 600 lx
CRI: 80
CCT:  4000K
Luminaires: PICA 1-40 and PICA 1-80
Installation year: 2022