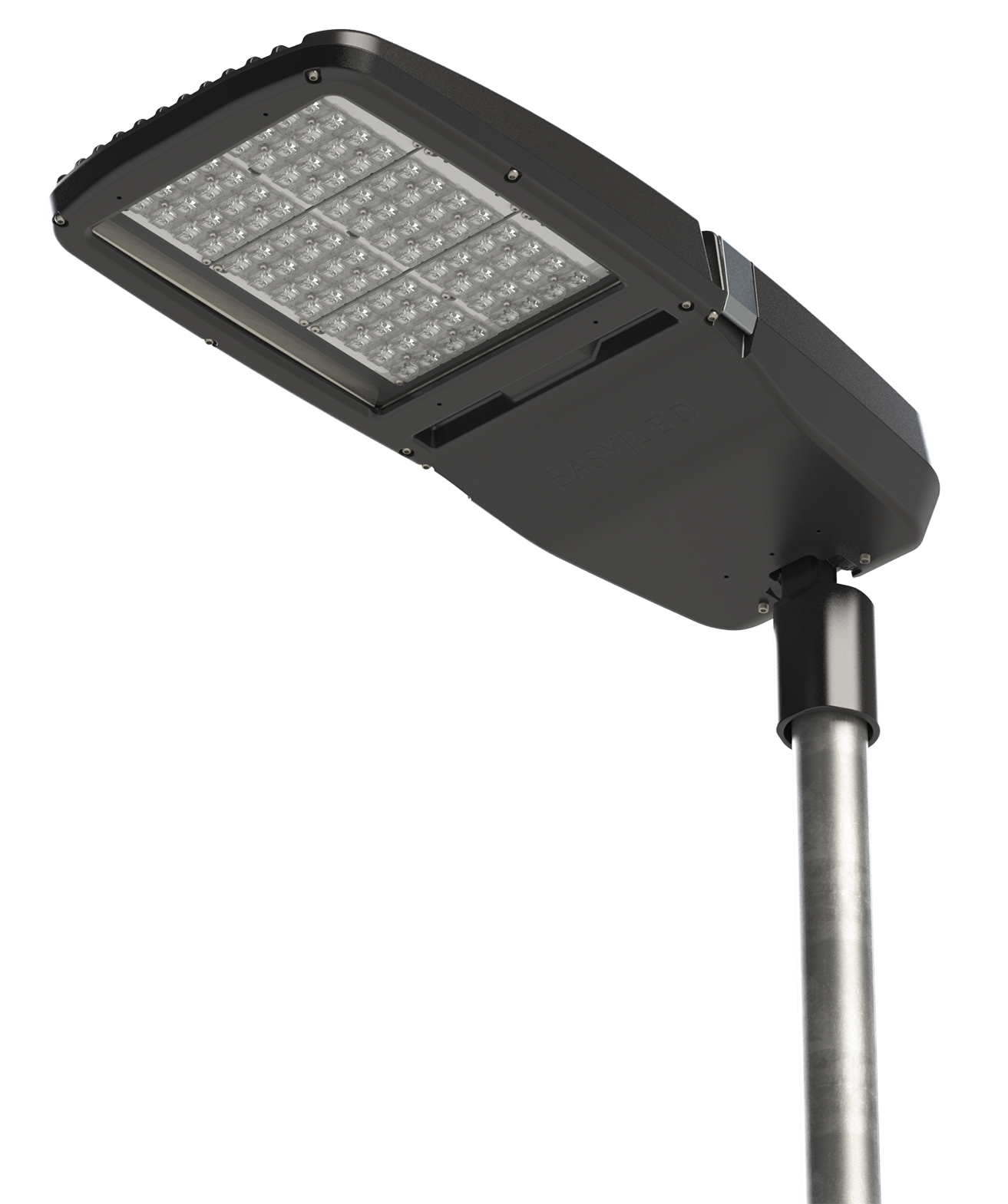 Intelligent led luminaire for road, street and area lighting
PRO Flow is a brand new Easy LED luminaire that suits all kinds of environments from roads to highways. The clean Scandinavian design, die-cast aluminum body, self-cleaning cooling system and durable materials assure long lifetime reliability. The familiar and efficient Easy LED road and area optics ensure that PRO Flow is suitable for all kinds of environments.
Benefits:
upgradeable and easy to maintain
Built-in DALI-2. Compatible with third party control systems. Luminaires are available with Zhaga or NEMA compliant connectors.
IK09 & IP66 certified
easy to install and adjust
substantial energy savings & minimal maintenance cost
Easy LED PRO Flow -luminaires are designed and made in Finland.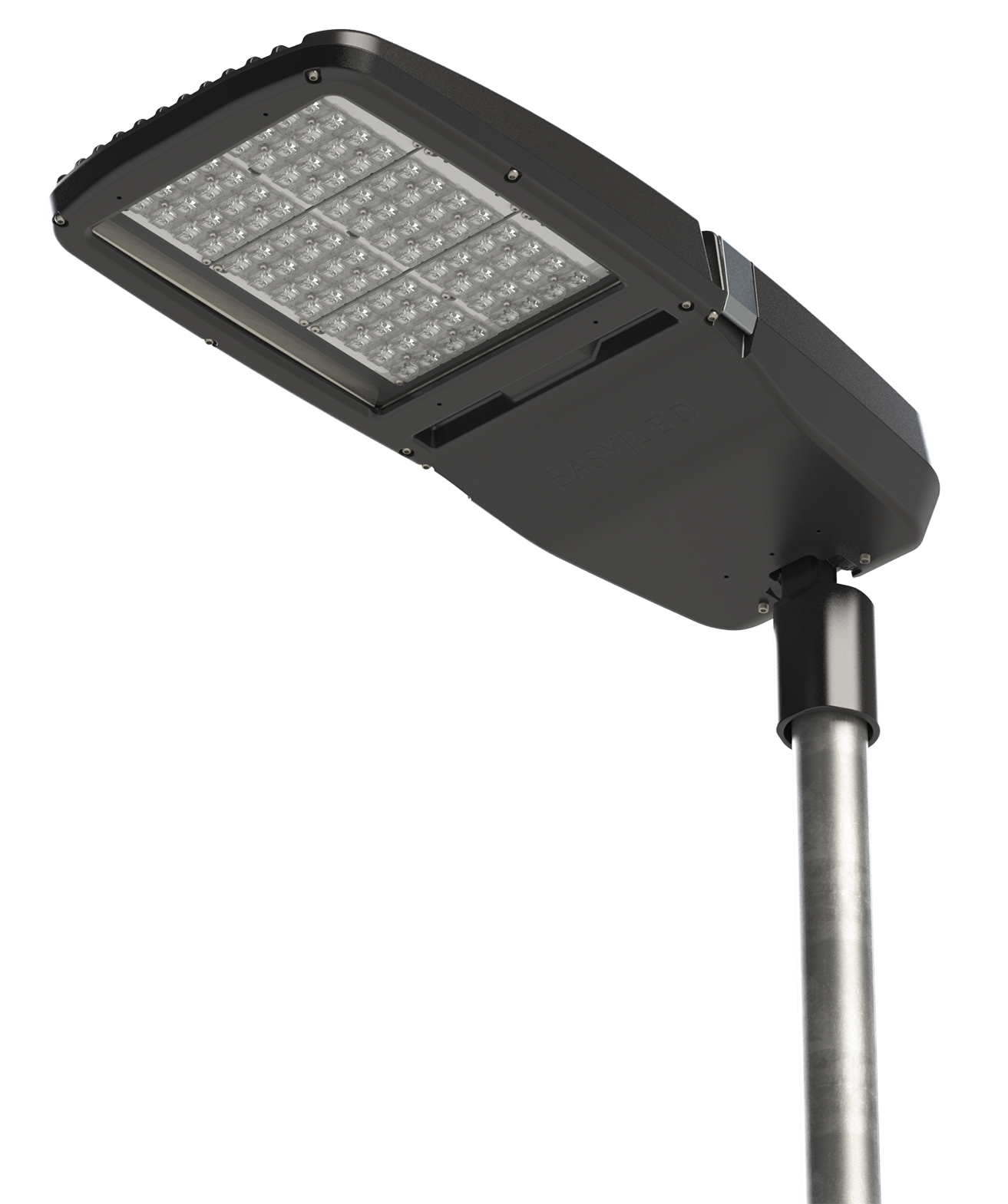 | Model | Luminous Flux (lm) | Power Consumption (W) | Lifetime | Temperature range (°C) | Total weight(kg) | Luminaire dimming range |
| --- | --- | --- | --- | --- | --- | --- |
| PRO Flow S 12-350 | 1 830 | 14 | L95B10, C10, 100 000h | -40…+50 | 5,7 | 22% - 100% |
| PRO Flow S 12-420 | 2 150 | 16 | L95B10, C10, 100 000h | -40…+50 | 5,7 | 19% - 100% |
| PRO Flow S 12-500 | 2 520 | 19 | L95B10, C10, 100 000h | -40…+50 | 5,7 | 16% - 100% |
| PRO Flow S 12-600 | 2 960 | 23 | L95B10, C10, 100 000h | -40…+45 | 5,7 | 14% - 100% |
| PRO Flow S 12-700 | 3 380 | 26 | L95B10, C10, 100 000h | -40…+45 | 5,7 | 12% - 100% |
| PRO Flow S 12-850 | 3 980 | 32 | L95B10, C10, 100 000h | -40…+40 | 5,7 | 10% - 100% |
| PRO Flow S 12-1000 | 4 550 | 38 | L95B10, C10, 100 000h | -40…+45 | 5,7 | 9% - 100% |
| PRO Flow S 14-350 | 2 130 | 16 | L95B10, C10, 100 000h | -40…+50 | 5,7 | 22% - 100% |
| PRO Flow S 14-420 | 2 510 | 19 | L95B10, C10, 100 000h | -40…+50 | 5,7 | 19% - 100% |
| PRO Flow S 14-500 | 2 930 | 22 | L95B10, C10, 100 000h | -40…+50 | 5,7 | 16% - 100% |
| PRO Flow S 14-600 | 3 450 | 26 | L95B10, C10, 100 000h | -40…+45 | 5,7 | 14% - 100% |
| PRO Flow S 14-700 | 3 940 | 31 | L95B10, C10, 100 000h | -40…+45 | 5,7 | 12% - 100% |
| PRO Flow S 14-850 | 4 630 | 37 | L95B10, C10, 100 000h | -40…+40 | 5,7 | 10% - 100% |
| PRO Flow S 14-1000 | 5 280 | 44 | L95B10, C10, 100 000h | -40…+40 | 5,7 | 9% - 100% |
| PRO Flow S 24-350 | 3 650 | 26 | L95B10, C10, 100 000h | -40…+55 | 5,7 | 22% - 100% |
| PRO Flow S 24-420 | 4 300 | 31 | L95B10, C10, 100 000h | -40…+55 | 5,7 | 19% - 100% |
| PRO Flow S 24-500 | 5 020 | 37 | L95B10, C10, 100 000h | -40…+50 | 5,7 | 16% - 100% |
| PRO Flow S 24-600 | 5 870 | 44 | L95B10, C10, 100 000h | -40…+50 | 5,7 | 14% - 100% |
| PRO Flow S 24-700 | 6 690 | 52 | L95B10, C10, 100 000h | -40…+45 | 5,7 | 12% - 100% |
| PRO Flow S 24-850 | 7 820 | 63 | L95B10, C10, 100 000h | -40…+40 | 5,7 | 10% - 100% |
| PRO Flow S 24-1000 | 8 880 | 74 | L95B10, C10, 100 000h | -40…+30 | 5,7 | 9% - 100% |
| PRO Flow S 30-350 | 4 440 | 32 | L95B10, C10, 100 000h | -40…+55 | 5,7 | 22% - 100% |
| PRO Flow S 30-420 | 5 250 | 38 | L95B10, C10, 100 000h | -40…+55 | 5,7 | 19% - 100% |
| PRO Flow S 30-500 | 6 120 | 45 | L95B10, C10, 100 000h | -40…+50 | 5,7 | 16% - 100% |
| PRO Flow S 30-600 | 7 160 | 54 | L95B10, C10, 100 000h | -40…+50 | 5,7 | 14% - 100% |
| PRO Flow S 30-700 | 8 140 | 63 | L95B10, C10, 100 000h | -40…+45 | 5,7 | 12% - 100% |
| PRO Flow S 30-850 | 9 540 | 76 | L95B10, C10, 100 000h | -40…+40 | 5,7 | 10% - 100% |
| PRO Flow S 30-1000 | 10 730 | 90 | L95B10, C10, 100 000h | -40…+30 | 5,7 | 9% - 100% |
|   | | | | | | |
| PRO Flow M 32-350 | 4 860 | 34 | L95B10, C10, 100 000h | -40…+50 | 6,5 | 22% - 100% |
| PRO Flow M 32-500 | 6 670 | 48 | L95B10, C10, 100 000h | -40…+50 | 6,5 | 16% - 100% |
| PRO Flow M 32-600 | 7 790 | 57 | L95B10, C10, 100 000h | -40…+45 | 6,5 | 14% - 100% |
| PRO Flow M 32-700 | 8 980 | 67 | L95B10, C10, 100 000h | -40…+40 | 6,5 | 12% - 100% |
| PRO Flow M 32-850 | 10 470 | 81 | L95B10, C10, 100 000h | -40…+35 | 6,5 | 10% - 100% |
| PRO Flow M 32-1000 | 11 800 | 96 | L95B10, C10, 100 000h | -40…+35 | 6,5 | 9% - 100% |
| PRO Flow M 40-350 | 6 040 | 42 | L95B10, C10, 100 000h | -40…+50 | 6,5 | 22% - 100% |
| PRO Flow M 40-500 | 8 300 | 59 | L95B10, C10, 100 000h | -40…+45 | 6,5 | 16% - 100% |
| PRO Flow M 40-600 | 9 680 | 71 | L95B10, C10, 100 000h | -40…+40 | 6,5 | 14% - 100% |
| PRO Flow M 40-700 | 10 990 | 83 | L95B10, C10, 100 000h | -40…+35 | 6,5 | 12% - 100% |
| PRO Flow M 40-850 | 12 890 | 101 | L95B10, C10, 100 000h | -40…+35 | 6,5 | 10% - 100% |
| PRO Flow M 40-1000 | 14 550 | 120 | L95B10, C10, 100 000h | -40…+30 | 6,5 | 9% - 100% |
| PRO Flow M 40-1050 | 15 040 | 126 | L95B10, C10, 100 000h | -40…+25 | 6,5 | 8% - 100% |
|   | | | | | | |
| PRO Flow L 44-1050 | 17 670 | 141 | L95B10, C10, 100 000h | -40…+40 | 13,7 | 8% - 100% |
| PRO Flow L 48-850 | 15 860 | 123 | L95B10, C10, 100 000h | -40…+45 | 13,7 | 10% - 100% |
| PRO Flow L 48-1050 | 18 700 | 153 | L95B10, C10, 100 000h | -40…+40 | 13,7 | 8% - 100% |
| PRO Flow L 60-700 | 17 090 | 125 | L95B10, C10, 100 000h | -40…+45 | 13,7 | 12% - 100% |
| PRO Flow L 60-850 | 19 960 | 152 | L95B10, C10, 100 000h | -40…+40 | 13,7 | 10% - 100% |
| PRO Flow L 60-1050 | 23 420 | 191 | L95B10, C10, 100 000h | -40…+40 | 13,7 | 8% - 100% |
| PRO Flow L 64-700 | 17 960 | 133 | L95B10, C10, 100 000h | -40…+45 | 13,7 | 12% - 100% |
| PRO Flow L 64-850 | 21 030 | 162 | L95B10, C10, 100 000h | -40…+40 | 13,7 | 10% - 100% |
| PRO Flow L 64-1050 | 24 430 | 201 | L95B10, C10, 100 000h | -40…+35 | 13,7 | 8% - 100% |
| PRO Flow L 80-600 | 19 670 | 141 | L95B10, C10, 100 000h | -40…+45 | 13,7 | 14% - 100% |
| PRO Flow L 80-700 | 22 330 | 166 | L95B10, C10, 100 000h | -40…+40 | 13,7 | 12% - 100% |
| PRO Flow L 80-850 | 26 100 | 204 | L95B10, C10, 100 000h | -40…+35 | 13,7 | 10% - 100% |
| PRO Flow L 80-1050 | 30 770 | 252 | L95B10, C10, 100 000h | -40…+35 | 13,7 | 8% - 100% |
| PRO Flow L 96-600 | 23 330 | 168 | L95B10, C10, 100 000h | -40…+40 | 13,7 | 14% - 100% |
| PRO Flow L 96-700 | 26 730 | 200 | L95B10, C10, 100 000h | -40…+35 | 13,7 | 12% - 100% |
| PRO Flow L 96-850 | 31 250 | 242 | L95B10, C10, 100 000h | -40…+35 | 13,7 | 10% - 100% |
| PRO Flow L 96-920 | 33 190 | 263 | L95B10, C10, 100 000h | -40…+35 | 13,7 | 10% - 100% |
| PRO Flow L 96-1000 | 34 940 | 284 | L95B10, C10, 100 000h | -40…+30 | 13,7 | 9% - 100% |
Casing: Aluminum
Lens cover: Extra bright hardened glass
Coating: Aluminum grey, shot-blasted. Available also powder-coated and in RAL colours
Optics: Easy LED road and area optics
IP-class: IP66
IK-class: IK09
Temperature range: -40°C…+55°C (95% RH)
Input voltage: 230 VAC (operating range 170 – 264 VAC)
Power factor (PF) typical: S-models >22 W: >0,95, input power <22 W: >0,9, M & L -models >0,95, Z -models >0,9
Thermal protection: Inbuilt 2-stage protection with advanced hysterisis
Luminaire protection class: I, available II
Installation: Horizontal and vertical tube 60 – 34 mm as standard
Delivery: Fully assembled
Warranty: 5 years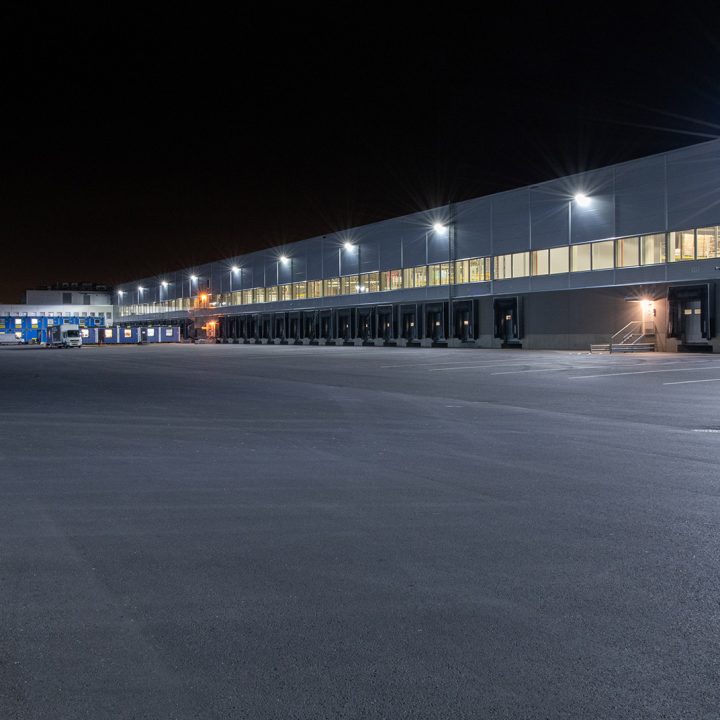 Place: Turenki
Installation height: 13 m and 15 m
CRI: 70
CCT: 5000
Flicker Free: yes
Control: On/Off
Luminaires: BUBO B1G 23 pcs.,
PRO+ 4X 59 pcs., PRO Flow S 4 pcs.
Installation year: 2018